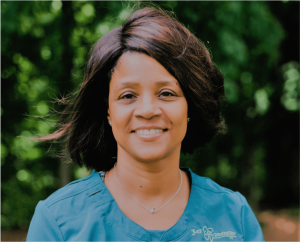 "Choose a job you love, and you will never have to work another day in your life" is a quote that Dr. Spates strongly believes. This mantra allowed her to develop Just Kidz Dentistry over 18 years ago in Peoria, Illinois. She believes in gentle, compassionate dental care. She also believes that going to the dentist can be an enjoyable experience for children.
Dr. Spates completed dental school at the Medical College of Virginia, where she discovered her passion for treating kids. She later completed her pediatric dental residency at the Children's Memorial Hospital in Chicago, where she served as Chief Resident. She also spent an additional year as a fellow training future pediatric dentists and completing her research in the Hematology division. Dr. Spates is a member of the American Academy of Pediatric Dentistry, the Illinois Society of Pediatric Dentists and the American Dental Association®.
In her spare time, she enjoys spending time with her husband and four children. She also enjoys traveling and doing various types of exercise.
Dr. Evelyn Perez is a bilingual (Spanish/English) pediatric dentist who enjoys every moment of helping littles attain the most positive, comfortable and all-around fun dental experiences they deserve. Dedicated to accentuating the lives of everyone who walks through the door, Dr. Perez holds an extensive 16+ year history in this field and loves blending those experiences with her compassionate nature to ensure every patient leaves with a bright, confident and genuinely happy smile.
Initially, Dr. Perez attained her DDS from the International University of the Americas in Costa Rica and then began her own dental practice from 2006 to 2015, before relocating to New York to complete a two-year residency in advanced education in general dentistry (AEGD) at the University of Rochester in conjunction with a pediatric dental fellowship. From there, Dr. Perez moved to Louisville, Kentucky, to complete her second residency, specializing in pediatric care, as well as attaining her master's degree in dental sciences at the University of Louisville. To date, Dr. Perez is a board-eligible member of the American Board of Pediatric Dentistry, the American Dental Association® (ADA), and the American Academy of Pediatric Dentistry.
When Dr. Perez is not raising the dentistry bar for her patients, you can find her pursuing her master in public health (estimated in 2023), exploring new restaurants, taking strolls around the neighborhood, enjoying a good nature hike and traveling to fulfill her wanderlust.
What does it mean to be a Diplomate or Board-Certified Pediatric Dentist?
A pediatric dentist is a dentist who has completed a graduate program accredited by CODA (Commission on Dental Accreditation) in the specialty of pediatric dentistry. A dentist who graduates from a specialty program becomes a pediatric dentist and is eligible to become board certified through the voluntary examination process of the American Board of Pediatric Dentistry (ABPD). Involvement in the certification process is a demonstration of the pediatric dentist's pursuit of continued proficiency and excellence.
A pediatric dentist certified by ABPD is also known as a Diplomate of the American Board of Pediatric Dentistry.